Gophers seek to avenge ugly loss at Illinois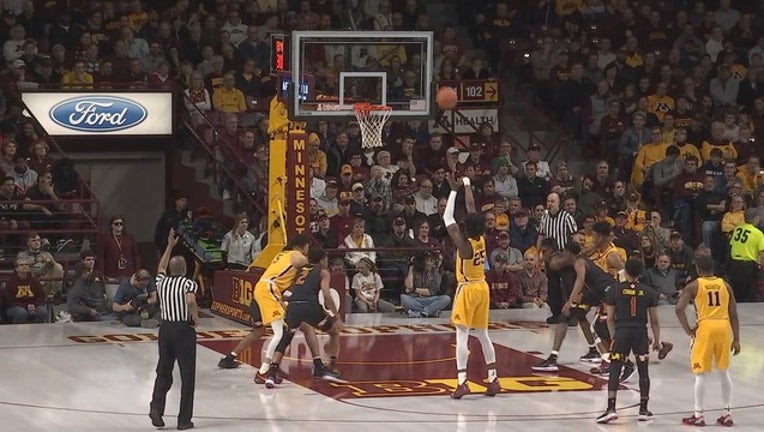 MINNEAPOLIS (FOX 9) - Richard Pitino didn't want to look at the film two weeks ago after one of the worst losses in his five-plus seasons as Minnesota coach.
The Gophers went to Illinois Jan. 16 and got embarrassed, 95-68. They got hit in the mouth early, trailed 51-28 at half and never recovered. To make matters worse, it was the Illini's first Big Ten win. Pitino would probably rather have lit a match to that game film, but he watched it. More than once.
"It's painful but you've got to learn from it, certainly. I think we're better than we were back then, but I think Illinois is better too," Pitino said Tuesday.
He's right on both fronts as the Illini visit Williams Arena Wednesday night in a crucial game for the Gophers to round out the first half of the Big Ten schedule.
The Gophers bounced back from the loss two weeks ago by grinding out a 65-64 win over Penn State three days later. They followed that by taking No. 5-ranked Michigan to the final horn in Ann Arbor. Gabe Kalscheur hit a game-tying jumper that looked like it would send the game to overtime. But Charles Matthews hit a baseline jumper with less than a second to play, and the Wolverines escaped.
It was a loss, but it gave the Gophers confidence that they can play with any team in the country.
Sunday night, they scored 55 points in the first half and shot 57 percent from the field in a 92-87 win over No. 19-ranked Iowa. It gave the Gophers their fourth win over a top-35 team.
They had 25 assists on 32 made field goals. They got 23 points each from Amir Coffey and Jordan Murphy.
"The beauty of last game was it wasn't a play that we ran that was the reason we scored. It was how we ran it, how we spaced, how we moved it," Pitino said. "It taught those guys the fundamental part of it can carry over."
Murphy might be one of the best players in the country that isn't being talked about nationally. He moved up to No. 2 in the Big Ten with 1,150 career rebounds, and could be top five in scoring at Minnesota before this season is over. He's one 10 players in Big Ten history with at least 1,500 career points and 1,000 career rebounds.
Murphy has 13 double-doubles in the Gophers' 20 games this season.
"He definitely deserves more national recognition but that comes with winning," senior guard Dupree McBrayer said. "As long we keep doing what we've got to do and putting wins on, I think he'll get the recognition in the end."
One thing the Gophers and fans will have to survive for Wednesday's game against Illinois at Williams Arena has nothing to do with basketball or what transpires on the court. It will be just getting to the game.
The University of Minnesota is closed until Thursday due to dangerously cold conditions outside. Temperatures are expected to bottom out Wednesday morning at -25 to -30 in the Twin Cities, with wind chills expected to be greater than -50.
There won't be classes, but the Gophers are hoping fans fill The Barn for a home court advantage against Illinois, which is coming off beating top-25 Maryland on Saturday at Madison Square Garden.
"Everybody needs to be safe, I want to be clear on that. But we need a home court, it's very, very important. If you do come, bring it a little extra because we need you," Pitino said.
The mindset has changed for the Gophers in practice since that embarrassing loss at Illinois. Practice has gotten more intense, and it's being treated like a game. After all, how you practice is how you play.
Minnesota had to rely on its bench to beat Iowa. Center Daniel Oturu missed the game with a shoulder injury, which meant floor time for Matz Stockman. The senior didn't play in the previous two games, but he was ready when his number was called against the Hawkeyes.
Stockman played 16 minutes and scored six points, grabbed two rebounds and stood tall against the Hawkeyes' front-court.
"The last couple weeks everybody has been really locked in in practice. We've been treating it like it's an actual game. We've all been super focused and I think it came from that loss at Illinois," Stockman said. "I knew whenever I got an opportunity I would be ready for it."
Illinois rounds out the first half of the Big Ten schedule for Minnesota. The Gophers then have three of their next four on the road, including trips to Purdue, Michigan State and Nebraska. It's what makes avenging that loss to Illinois Wednesday night so crucial.
And with different match-ups every game, everybody has to be ready.
Pitino put it simply: "We need everybody. Just because you played a lot or didn't play a lot is irrelevant to the next game."