Steph Curry tops Mardy Fish in controversial finish at American Century Championship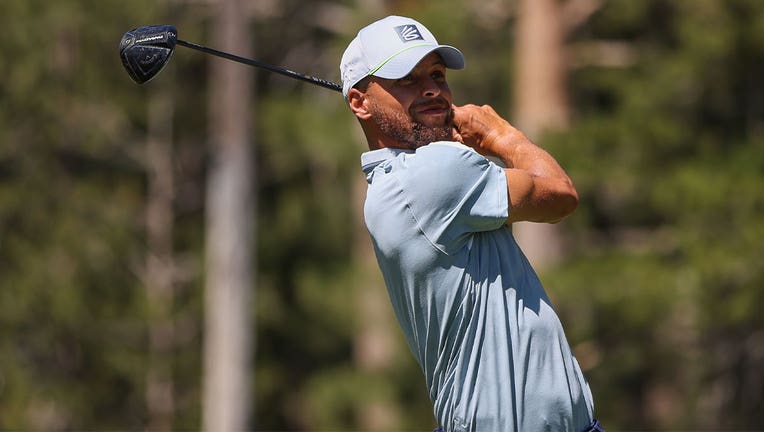 article
(FOX 9) - NBA star Steph Curry canned an eagle putt to win the American Century Championship on Sunday over retired tennis star and Minnesota native Mardy Fish. But the dramatic win faced some controversy due to a fan's antics on the 18th tee.
Headed onto the 18th tee, Fish led Curry by three points. The event uses Stableford scoring that awards points based on how a player finishes a hole. An eagle is worth six points, a birdie is worth three, and a par is worth one point. No points are awarded for a bogey and two points are deducted for a double bogey or worse.
The controversy came as Curry and Fish, who were in the same pairing, stepped onto the 18th tee. As Fish lined up to swing, a fan in the crowd made two bird-like screeching noises. Fish's tee shot went low and to the far right into the gallery.
Fish shot an annoyed look into the crowd while other fans chided the fan. NBC commentators called the fan's actions "intentional" and said the person tried to scurry away afterward.
Fish was able to salvage a par on the hole. That would have been enough to hold off Curry -- if Curry had not drained a 20-foot putt to card an eagle.
The eagle gave Curry 75 points for the tournament. Fish finished at 73. If Fish could have birdied the final hole, it would have forced a playoff.
Curry praised Fish's professionalism after the bad actions of the fan.
"You have to acknowledge it, it was an unfortunate situation," said Curry speaking with the press afterward. "A guy trying to sabotage what was going on for a moment. Mardy is such a class act. I complimented him for the way he bounced back to give himself a chance to win."
"I felt embarrassed for all the other fans," Curry added. "There's so much great love from the 99.9% of the people who come into this environment. And they're so supportive and bring so much energy. You got one guy who loses his mind for a second."