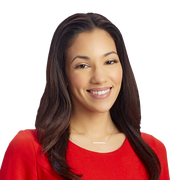 Iris Perez serves as a multifaceted reporter/fill-in anchor at FOX 9 in the Twin Cities. Her live reports often lead the station's primetime 9 p.m. and 10 p.m. newscasts.
Iris has extensively covered the officer-involved shooting death of Philando Castile, Justine Damond, the decades-old Amy Sue Pagnac case, and was the first reporter on the scene when the body of missing fourth grader Barway Collins was discovered. Tips regularly make their way to Iris' phone and inboxes, as she's known for her keen, compassionate, yet no-nonsense ability to tug at the heart of any story, from crime to community interest.
Outside of the newsroom, Iris enjoys a healthy podcast regimen, reading, yoga, biking with friends, and discovering new R&B/Soul music.
A southwest Detroit native, Iris is also a proud graduate of the University of Michigan, Ann Arbor, where she earned her Bachelors of Arts in Communication Studies & Spanish. Go Blue!
The latest from Iris Perez