Noor trial jury questionnaire asks about police opinions, interactions with Somali-Americans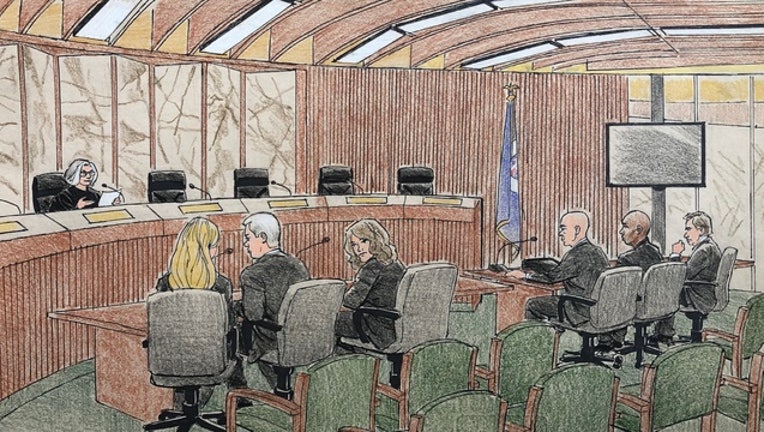 MINNEAPOLIS (FOX 9) - On Monday, prospective jurors for the trial of former Minneapolis police officer Mohamed Noor filled out a questionnaire that attorneys will use to select a fair and impartial jury to hear the case. Noor is charged with second-degree murder, third-degree murder and second-degree manslaughter for the 2017 shooting death of Justine Ruszczyk Damond.
The jury questionnaire has 66 questions spread out over 18 pages, including questions about pre-trial publicity of the case, interactions with Somali-American citizens and interactions with police. 
The court is looking for 16 jurors--12 who will deliberate and four alternates.
Questions 16-18 pertain to interactions with Somali-Americans:  
16. Mr. Mohamed Noor is a Somali-American citizen. Do you know any individuals of Somali descent? Please explain who the person(s) is/are and how you know them. 
17. Have you ever had any particularly positive or negative experiences with persons of Somali descent or heritage? 
18. Is there anything about Mohamed Noor's ethnicity that would be difficult for you to presume he is innocent of all charges against him?
Questions 33-45 ask about the prospective juror's interactions and experiences with police and the criminal justice system, including:
35. Have you, or anyone you know, ever felt they were treated unfairly by a police office or other law enforcement officer? 
38. You will be hearing testimony from a number of police officers in this case. Do you think you would give police officers more credibility, less credibility, or the same amount of credibility as other witnesses? 
39. Is there anything about your contacts with the police that would cause you to be biased for or against the State of Minnesota or Mr. Noor in this case? 
40. At the time of the incident, Mohamed Noor was employed as a Minneapolis police officer. Is there anything about the nature of that employment that would cause you to be biased for or against Mr. Noor or the State of Minnesota in this case? 
41. Do you feel that the jury system in this country is a fair system? 
42. How well do you feel our criminal justice system works? 
44. Do you watch any reality television shows that involve law enforcement investigations, forensic evidence, or that regularly show video collected by law enforcement agencies, i.e. "Cops," "America's Most Wanted," et cetera? If so, how often and how recently? 
45. Do you watch any television shows that involved fictional rime stories, i.e. "CSI," "NCIS," "Law and Order," et cetera? If so, how often and how recently? 
Questions 46-53 pertain to pre-trial publicity, as in what information the prospective juror might have read, watched or heard about the case. The questions include: 
46. Have you read or heard anything about this case or the people involved, or did you see or hear any news reports about it? 
50. If you have heard about this case, what sticks out in your mind about Justine Ruszczyk, the woman who was shot? 
51. If you have heard about this case, what sticks out in your mind about Mohamed Mohamed Noor, who, at the time, was a Minneapolis Police Officer? 
52. Have you had any conversations with family members, friends, co-workers, or other people you know about this case? IF YOU ANSWERED YES, have any of those people expressed to you an opinion about the guilt or innocence of Mohamed Mohamed Noor in this case?
53. If you have read about, heard about, or talked about this case, does anything you've read, heard, or discussed affect your ability to presume Mohamed Mohamed Noor innocent of the charges against him? If yes, please explain. 
Judge Kathryn Quaintance has ordered prospective jurors to not consume any media about the case from here on out--no newspapers, no TV, no social media and no conversations about the case outside the courthouse.
Questions 62 asked jurors whether they would have trouble listening to or seeing any graphic evidence presented at the trial. 
62: Because this case involves a death by gunshot, there will be medical examiner testimony and autopsy photos, as well as body camera footage from the scene that is graphic. Do you anticipate that you would have trouble listening to or viewing this evidence? If yes, please explain. 
The final question asked the prospective jurors whether they know anyone who could be called as a potential witness in the trial. 
66. Please read the attached list of potential witnesses and circle the names of any of the witnesses with whom you or someone who know has an association or whom you think you recognize. 
The full jury questionnaire can be viewed online.